Online Resilience Training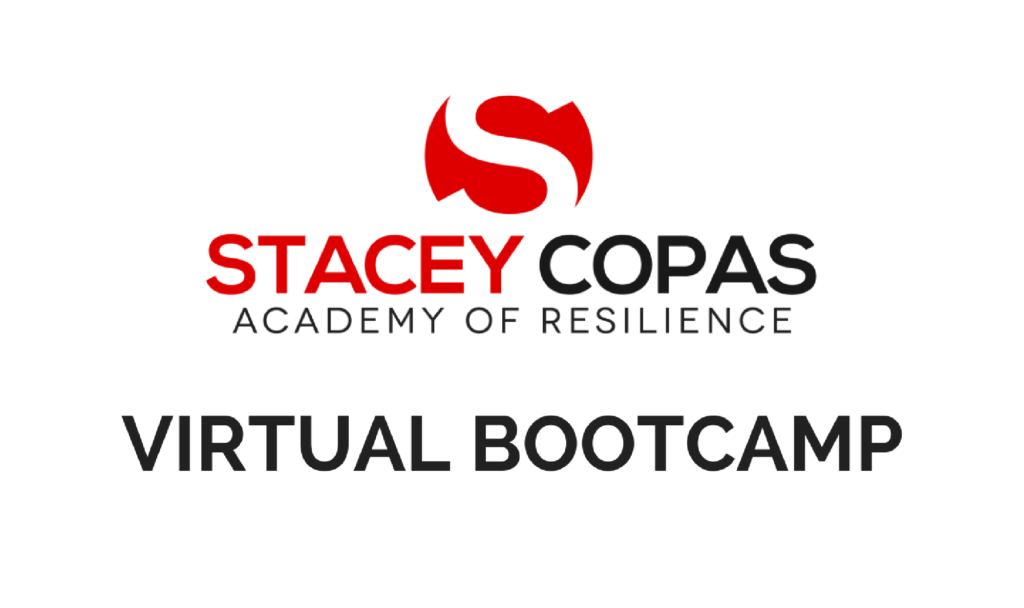 Have you felt overwhelmed with the rapidly increasing pace of change?
Struggled with needing to do more and more in less time than ever?
Finding it challenging juggling the competing demands of work and life?
You're not alone.
The world is rapidly changing, you are having to do more with less, are more stressed and have less balance in their lives. To be fulfilled and successful in embracing the changing world, it is essential to develop resilience to see and act on the opportunities that change presents.
To help you to do this in a way that it flexible and can be done from your desk or smartphone, Stacey Copas is thrilled to invite you to join the long awaited Academy Of Resilience Virtual Bootcamp.
---
In appreciation of your feedback from being one of the first students I would love to offer you a 70% discount on your enrolment by using the code PILOT

---
Dubbed the "Queen of Resilience" by 7 times world surfing champion Layne Beachley, Stacey has not let a devastating accident that left her a quadriplegic and dependent on a wheelchair at 12 years old slow her down.
Instead she has used her life experience and personal philosophies to help leaders be their best in challenging times, working with organisations such as Telstra, the McGrath Foundation and the CSIRO.
Stacey is the author of How To Be Resilient, and has been featured by Financial Review, ABC radio and The Australian for her insights on resilience in the workplace.
In recent times Stacey has declined invitations to speak in Dubai, Cairo, Singapore, Malaysia, Shanghai, Melbourne and Gold Coast, and has a growing list of cities with requests to run events. Now you can work with Stacey no matter where in the world you are!
Through the Academy Of Resilience Virtual Bootcamp you will discover:
How to find and act on the opportunity in change and adversity
How to feel comfortable with uncertainty and have the confidence to take inspired actions
How a positive and proactive approach to adversity and change can be a competitive advantage
Simple practices to be more resilient and help others around you become more resilient
Improved self-awareness, resourcefulness and work-life harmony
Enrol today for the Pilot Program for the Academy Of Resilience Virtual Bootcamp – kicking off August 2017 – to receive a never to be repeated special offer.
Being part of the very first group to enrol in the program we'd love for you to put it through its paces, try it out completely and share your completely honest feedback to help make it the best program for resilience available anywhere in the world.
Learn the way you prefer – at your desk or from your phone/tablet. Video, audio and text versions available for your convenience.
Enrol today to receive:
Lifetime access to Academy Of Resilience Virtual Bootcamp
2 tickets to the 2018 Live Academy Of Resilience Bootcamp in Sydney
Coaching from Stacey throughout the training
VIP Academy Of Resilience Status
And for next 21 enrolments only:
1-on-1 Maximum Impact call with Stacey
After the pilot round of the Academy Of Resilience Virtual Bootcamp enrolment will be $997 for the training only.
---
In appreciation of your feedback from being one of the first students I would love to offer you a 70% discount on your enrolment by using the code PILOT

---
"Stacey reminded us that change can be an empowering experience, and that opportunities often arise when challenges are met with resilience and a positive attitude. Her presentation style was warm and engaging, and in telling her personal story she illustrated to us that we always have a choice – it's what we do with it that makes a difference. She left us with some simple but invaluable tips on resilience – and if anyone has the authority to speak on this topic it's Stacey!"
Lesley Geldenhuys, Project Support Manager, CSIRO
Improved Resilience – Guaranteed
In the unlikely event that you go through the entire course and feel that it has not improved your resilience, get in touch – demonstrate that you have completed all of the sessions and the exercises and we'll give you double your money back
"Stacey is amazing! I attended an event where Stacey presented on 'Resilience', it was definitely thought provoking. Even more than that, it provided real tips for resilience to implement in my own professional and personal life. Doing this has meant an improved approach to the way I respond to situations and change. Practical and inspiring – a winning combination!"
Sarah Davies, Marketing Manager, Orthopaedics SA
---
Be quick, enrolments close midnight 13th August with the first lessons commencing on 14th August.
Remember to use the code PILOT to receive a never to be repeated 70% discount on your enrolment.

---